Wrench-able Caps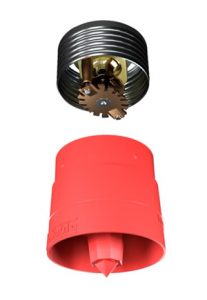 ---
Wrench-able Caps for Flat Plate Concealed Sprinklers
Using the Model W3 wrench, sprinklers are installed without removing the protective cap.
Indicator on cap for alignment with nominal finished ceiling location.
Caps project beyond sprinkler cup and are angled out to help avoid damaging ceiling finish.
Cap color indicates sprinkler temperature rating.
Cap can be removed with a standard 1/2″ NPT or BSPT threaded adapter on pipe.
Adhesive-backed silicone disk available to create a cover plate installation tool.
---
See Technical Bulletins for use with Sprinklers: